Meal planning doesn't have to be elaborate and it doesn't even have to be ever changing. It just needs to work for you and your situation.
I once heard a statistic that most people eat the same meals and that gives rise to things like Meat free Monday or Taco Tuesday.  There is absolutely nothing wrong with eating like this.  It makes things predictable and if your goal is weight loss it can make it easier for you to work on your goal.
A simple plan for families especially those with young children is to meal plan with this in mind.  Kids when they are young can have a very narrow repertoire of foods they will eat and so week in week out dinners revolve around those key ingredients.
Having at least 10 go to recipes that you can recycle is a good plan.  If your goal is to lose weight and you are counting calories/kilojoules this can make life a lot easier and more simple for you.  You can create and modify recipes to suit your family and calorie/kilojoule allowance.  Once you've created that recipe and worked out the calories/kilojoule you can keep using it over and over again.
Here is a list of simple meals with links to great recipe websites that might suit your family as they have been approved by mine:
1. Pesto Pasta with Broccoli – This Recipe makes fresh Pesto from scratch but if you're in a hurry you can buy Basil Pesto already made.  This dinner takes 15 minutes to put together.  A really good vegetarian meal and you won't even miss the meat because it's so tasty.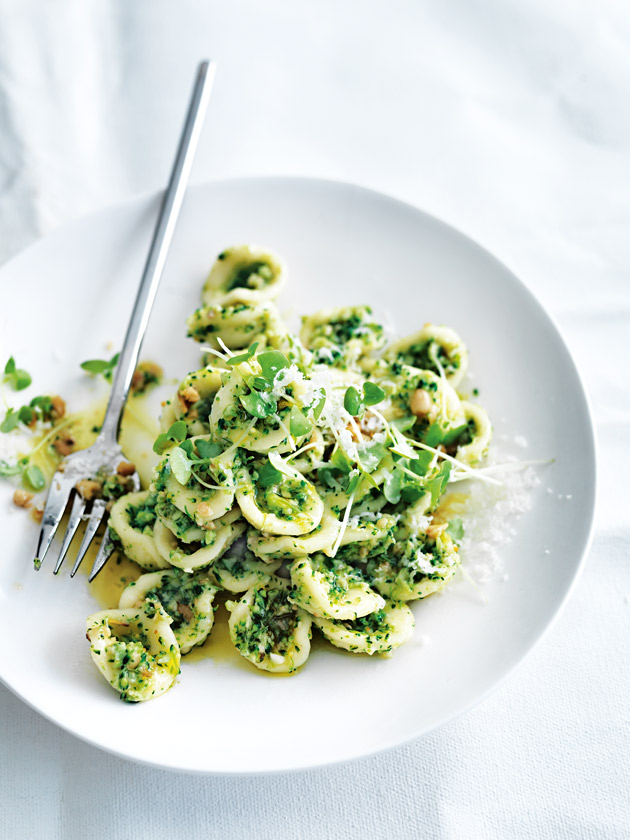 2. Spaghetti Bolognese – Is this not a staple in all households! A family favourite in most house holds.  Only 20 minutes to throw together and universally enjoyed.  This can be easily adapted for vegetarians replacing mince with Quorn or Lentils.
3. Healthy Fish and Chips – This is best left for the weekends because it takes a bit longer to make at 45 minutes but it's worth it.  Baking the potato chips and shallow frying the fish instead of deep frying cut's most of the calories/kilojoules and makes for a much healthier version.
4. Wrap or Tortilla Pizzas –  Pizza is a family favourite and this version using a wrap or a tortilla as the base cuts calories/kilojoules and at only 15 minutes to make, this meal is so easy and so fast, it's faster than a delivery pizza.   Another great option to make vegetarian and the family won't even notice the meat is missing.
5. Fried Rice – Are you noticing a pattern here? Home-made takeaways are familiar and there's a reason why these foods are every where they're tasty and people like them.  But the problem with takeaways is that they are usually very high calorie/kilojoule.  Fried Rice can be a great meal to use up any left over vegetables in your fridge.
6. Risotto – Like pasta Risotto is so versatile.  Italian cuisine has an inescapable presence in our modern society and for good reason! It's delicious and easily adaptable!  Risotto is another great meal that lends itself to vegetarian options and for using vegetables up.
7. Sausages with Mash Sweet Potato – 'Ye Ol Bangers and Mash!' Sweet potato and potato are almost indistinguishable in terms of calories/kilojoules (and macros) and even though potatoes have a bad rep and sweet potatoes are seen as a much healthier option they are both healthy to eat.  The only thing in favour of sweet potato is the percentage of Vitamin C and A is higher than the humble potato.  Sausages are debatably not that healthy, who knows what is in them 'did someone say mystery parcels' and are usually very high calorie/kilojoule but they are well loved and if you hunt enough you can find better for you versions.  If you prefer for this meal you could replace Sausages with Grilled Steak, Lamb, Chicken or Mushrooms.
8. Mild Curry with Rice – Kids can love curry too as long as you make it very mild.  Curries lend themselves perfectly to vegetarian and vegan versions.  If you serve with rice and yoghurt and papadums or naan so that they can pick and choose how they have it, it can make all the difference.  Slow cooking can be a super convenient option for busy families.
9. Healthy Gourmet Burgers – Burgers can be healthy especially when you make them at home.  In my opinion they are a million times better than McDonalds and you can make something to rival Burger Fuel or a fancy burger joint!  If you use wholegrain grainy buns, lean meat or vegetarian patties, lots of salad and measured condiments you can cut the calories/kilojoules and still enjoy a good burger.
10. Roast Chicken with Roast Vegetables – 'Sunday Roast' It's the best when the house is filled with the smell of a roast.  People who don't really cook think that roast is a hard dish to make but it's super easy.  The only thing with it is that it does take a long time.  But there is nothing hard about bunging a chicken and some veggies in the oven.  And the leftovers can be used in so many ways, Chicken and salad sandwiches for lunch! "yes please!"  You can swap the chicken for any roast meat you like.
11. Noodles 'Pad Thai' – Noodles are the best so versatile, so many versions, literally hundreds of different combinations.  But once you've found your tried and true, there's nothing wrong with sticking with that.  Pad Thai is a great noodle dish and is easily made low calorie/kilojoule.
Healthy Food Guide – Pad Thai

12. Mexican Chicken Tacos – Mexican like Italian is everywhere and loved by most.  The great thing about Mexican is that meals like Burritos, Tacos and Fajitas can be served 'Family Style'.  Family style is where you have all the individual components laid out on the table for individual people to make their own choices for what they are going to fill their tortillas with.  This can be a way of helping those little ones feel in control of what they are eating and means everyone is happy eating what they like.  A win win situation dinner!
BBC Good Food – Light Chicken Tacos